Why Are Trench Collapses So Dangerous to Construction Workers?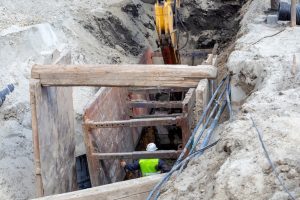 Trench work remains a common practice in modern construction despite significant advances in construction techniques. In order to install pipelines and utility lines, trenches need to be dug—and the risks associated with working in trenches still remain high. Although safety measures are required to be in place, some employers cut corners to keep costs low, leading to preventable accidents.
The number of fatalities resulting from trench work accidents has increased significantly in recent years. The Occupational Safety and Health Administration (OSHA) reported that in the first six months of 2022, more workers died in trench accidents than in all of 2021 combined. During that period, 22 fatalities occurred as compared to 15 in 2021, suggesting these numbers could be on the rise overall. In addition, trench accidents are twice as likely to happen when compared to other construction-related accidents. Tragically, all these deaths could have been prevented if proper safety measures had been implemented.
Reasons trench collapses happen in San Antonio
Trench collapses are not new to the San Antonio area, with multiple cases of injuries and fatalities in recent years. In one instance, a San Antonio construction worker was killed in a trench collapse while working on a drainage project in 2017. His head was still above the clay soil, but the weight of the soil being up to his neck was too much for his body to handle. More recently, a worker was successfully rescued from a trench collapse at a construction site in July of 2020. While he was able to be pulled out, it was reported that he would likely need surgery to repair some damage that was caused from being trapped in heavy, waist-deep soil.
Trench collapses can occur due to various reasons, but there are some common underlying causes, like:
Improper sloping. Trench walls must be sloped to prevent them from collapsing inward. If the angle of the slope is not steep enough, the walls may not be able to support the weight of the soil above and it may cave in. When it comes to safely digging trench walls, OSHA lists sloping, shoring, and shielding as the three main ways to prevent trench accidents.
Heavy rain or underground water sources can increase the amount of water in the soil, making it unstable and more likely to collapse. In some cases, flooding can occur after excavation has already started, causing the soil to become saturated and leading to a collapse.
Unstable soil. The type of soil in the trench can affect its stability, with loose or sandy soils being more prone to collapse than dense soils. The depth of the trench and the amount of pressure from the soil above can also impact the stability of the walls.
Failure to provide proper training to workers, inadequate protective equipment, and insufficient safety measures can all increase the risk of accidents. In some cases, employers may also disregard safety regulations, cut corners, or prioritize speed over worker safety, leading to accidents and injuries.
Trench collapse injuries can be serious
In the aftermath of a trench collapse, construction workers can sustain a harrowing array of injuries, each with its own potential for devastation. A collapse can swiftly turn a bustling worksite into a dangerous trap, where the stakes escalate to life-and-death proportions. Some trench collapse injuries may include:
If a worker is inside of the trench as it collapses, they can be buried underneath the dirt and deprived of oxygen, resulting in asphyxiation.
Broken bones. People may not realize it, but dirt is heavy. In fact, the Centers for Disease Control and Prevention (CDC) stated that one square yard of dirt weighs more than 3,000 pounds. If a worker gets buried underneath that, it can fracture bones as it feels like they're being crushed by the weight of a car.
If there were live wires within the trench, a victim may receive serious or fatal electrical shocks as they are trapped.
Considering all these ways workers can be hurt, it is not unheard of for them to succumb to their injuries.
Seeking compensation after a San Antonio trench collapse can be challenging
Trench accidents can cause serious injuries and even death. These are injuries that can rack up major medical bills and completely change the course of a person's life. Unfortunately, the state of Texas can make it challenging for victims to receive adequate compensation for their suffering. That is why working with a highly skilled attorney can help.
Workers involved in trench accidents may still be able to seek financial assistance through a personal injury case with the help of an attorney. If approved, this type of case can help cover things like:
Medical expenses
Lost wages
Pain and suffering
Disability
Vocational rehabilitation
Property damage
Wrongful death
An experienced San Antonio personal injury attorney can help
Navigating the complex legal system can be overwhelming and confusing, especially for someone who is already dealing with the physical and emotional trauma of a major injury. That's where an experienced San Antonio personal injury lawyer can come in. A skilled attorney can help injured workers understand their rights and options, as well as guide them through the entire legal process. They can help gather all the necessary evidence, including medical records and witness statements, to build a strong case and fight for their client's right to compensation. Attorneys will fight vigorously for the victim and ensure that they receive a fair settlement that covers all their current and future medical bills and lost wages. If necessary, they can also represent their client in court and fight for their case before a judge.
If you or a loved one has been a victim of a trench collapse at work in San Antonio, you deserve to have your voice heard and your rights protected. The Law Offices of Pat Maloney, P.C. understand the devastating impact that these accidents can have on victims and their families. We've been advocating for justice since 1953, and our attorneys are ready to fight tirelessly to ensure you receive the compensation you deserve. Contact us today by calling our San Antonio office or submitting our contact form to schedule a free consultation and take the first step towards justice.