What Is a Truck Rollover?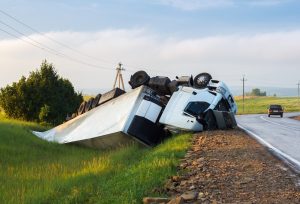 Truck rollovers are one of the most serious accidents in which truck drivers and passenger vehicle drivers can be involved. In fact, these types of accidents commonly lead to fatalities or lifelong disabilities.
A truck rollover accident is when an 18-wheeler turns onto its side or top. These accidents can happen at any time, but they are most common when large commercial trucks are going around sharp curves or making quick turns. Truck rollover accidents are typically single-vehicle accidents; however, it is not uncommon for other drivers to get caught up in the event.
For example, if a semi-truck is about to strike a passenger vehicle head on, the trucker may try to swerve quickly to avoid the accident. Unfortunately, this scenario is likely to end in the semi-truck landing onto its side and rolling a couple times before finally stopping. As a result, the truck driver and passenger vehicle driver may both be seriously hurt. There is also a chance that the swerving would have led to a collision with other drivers or caused them to swerve themselves. This is why a rollover is one of the more dangerous types of accidents: even if the truck doesn't hit another car, that doesn't mean a chain reaction crash won't happen, anyway.
Are truck rollover accidents common?
According to the Federal Motor Carrier Safety Administration (FMCSA), truck rollover accidents accounted for four percent of fatal accidents with semi-trucks and two percent of nonfatal accidents with semi-trucks in the United States in 2020. Due to the size and weight of an 18-wheeler truck, it is very easy for these large vehicles to flip and roll over. When the 18-wheeler goes around a curve or turns too sharply, the gravity of the vehicle can begin to shift, causing the tires to lift off the ground and the truck to tip onto its side or top.
What causes truck rollover accidents in San Antonio, TX?
There are various causes of truck rollover accidents, but most of these accidents are caused by someone's negligence. Here is a list of several of the different possible causes for truck rollover accidents:
Speeding
Aggressive driving or road rage
Improper loading of the trailer
Sudden stops
Going around sharp curves
Turning too quickly
Improper road maintenance
Defective or faulty brakes
Overworked, improperly trained, and inexperienced truck drivers
Driving through construction or work zones
Flat tire, low air tire, or tire blowout
The types of injuries that result from truck rollover accidents
For those who are not involved, truck rollover accidents lead to roadblocks and road closures for hours, which can become major inconveniences. For those who are involved, truck rollover accidents lead to severe and catastrophic injuries. Some people may recover within a few months or years, while others may experience long-term complications or even succumb to their injuries. The following are some of the types of injuries that result from truck rollover accidents:
Head and skull injuries, such as skull fractures
Concussions, contusions, and other traumatic brain injuries
Internal bleeding
Internal organ damage
Paralysis
Coma
Permanent nerve damage
Facial, dental, or eye injuries
Broken and fractured bones
Crush injuries
Abdominal injuries
Chest injuries
Shoulder injuries
Disfigurement and permanent scarring
Severe bruising
The larger the vehicle is, the more force and impact the driver will experience in a rollover accident. Therefore, an 18-wheeler and any other vehicle involved in a truck rollover accident will experience serious property damage as well as traumatic and devastating injuries for many years to come. Therefore, the next time you are driving next to or close to a semi-truck, be very cautious and allow them to go around you, especially around curves. If you notice any signs of tipping toward one side, this may be an indicator that the truck is at risk of rolling over onto its side or top.
Who is liable for a San Antonio truck rollover accident?
Even though truck drivers are liable for most truck rollover accidents, there may be several other parties involved. Your San Antonio truck accident attorney will investigate and determine who is responsible for your injuries and other losses from the accident. Some of the parties that our legal team will consider when finding fault and liability are:
The trucker: Truck drivers are usually found acting carelessly or recklessly when a truck rollover accident occurs. If it is determined that the trucker made a mistake or error before or during the accident, they will be considered liable for your truck rollover accident.
The trucker's employer/ trucking company: The trucking company that employs the trucker may be found negligent if they failed to properly train or supervise the truck driver. Sometimes, trucking companies can cause truckers to feel stressed, pressured, and tense when they demand that truckers make it to their destinations within a certain length of time, which causes the trucker to speed or drive negligently. While trucking companies will do everything that they can to hide their mistakes, a good truck accident lawyer knows what to look for.
The trailer loading crew: Trucking companies usually hire a trailer loading crew that is responsible for ensuring that the trailer is loaded correctly. Therefore, if it is found that the items in the trailer weighed too much or were not proportional, the trailer loading crew may be liable for your rollover truck accident.
The truck manufacturer or mechanic: Sometimes, truck rollover crashes occur because the truck's parts were defective or faulty, or there were mechanical problems. For example, the brakes may suddenly stop working, or the tire may deflate unexpectedly, causing a truck rollover accident. When this happens, manufacturers or mechanics are usually found liable as it is their responsibility to keep the trucks maintained to prevent accidents from occurring.
The road owner/ government agency/ road maintenance team: When a road has serious issues, such as potholes, cracks, debris, bumps, and hidden traffic signs, the truck driver may wreck and crash their large commercial vehicle, causing a truck rollover accident. As a result, the road owner, government agency, or road maintenance team is liable because it was their duty to ensure that the roads were safe and hazard free.
If you were involved in a truck rollover accident, please get in touch with the Law Offices of Pat Maloney at your earliest convenience. Our firm has built a solid reputation around San Antonio, and we are available and ready to help you file a truck accident claim today. Give us a call or fill out this contact form to schedule your no-obligation consultation, and our truck accident attorney will provide you with the top-tier legal advice you deserve. We look forward to meeting you soon!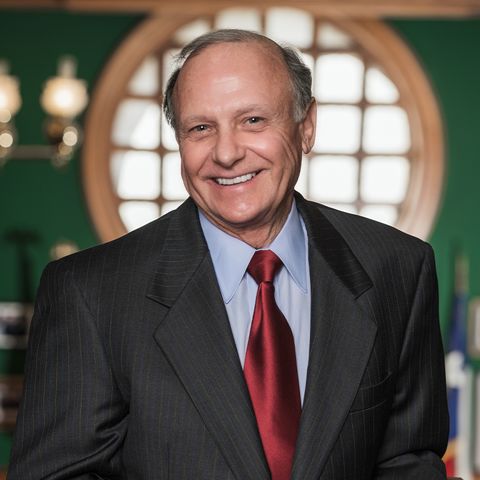 Pat Maloney, Jr. is a skilled San Antonio personal injury lawyer who has acted as lead counsel and co-counsel in many multi-million dollar verdicts throughout Texas. Pat Maloney represents people injured in car accidents, truck accidents, construction accidents and more. He is well known for his expertise in representing victims of serious personal injuries and has participated as a lecturer in the field of personal injury litigation. He has been named as one of the "Best Lawyers in America" Reference Book every year for the last five years.