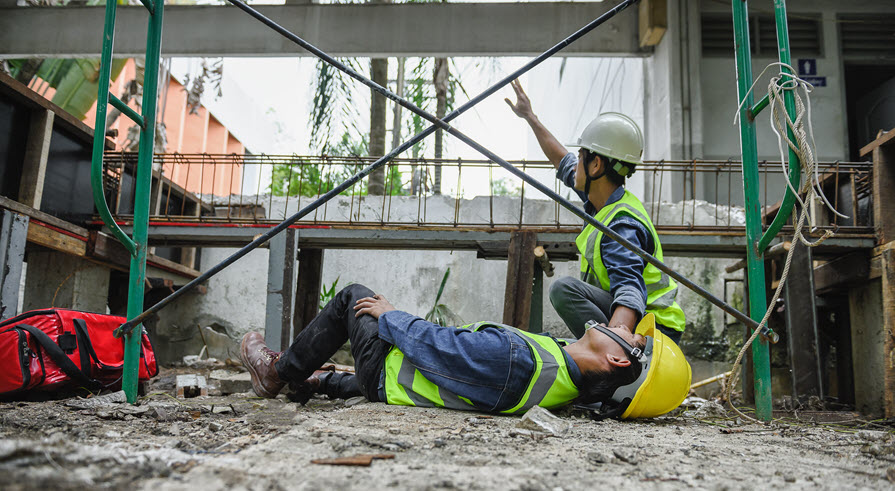 San Antonio Construction Accident Lawyer for Falls
Strong advocacy after a worksite fall in Texas
Construction work is continually taking place throughout San Antonio. This includes constructing new buildings or improving old ones, repairing sidewalks, widening streets, installing sewer lines, trimming trees, and many other types of improvements and repairs. Workers at these sites are at constant risk of falling because the ground around them is often changing, is filled with debris and objects, or is slippery. Workers may trip over tools or cables. Pedestrians can also be injured if the construction site is not closed off to non-workers.
The Law Offices of Pat Maloney in San Antonio has been fighting for fall victims for 70 years. We understand the federal and state regulations and local building codes that govern construction. We work with investigators and conduct extensive discovery to show how your fall occurred and why your fall was preventable. Our team works with your doctors and our network of doctors to show what injuries you have, the treatments you need, how your injuries prevent you from working, and every way your life is more difficult because of your injuries. When you need a San Antonio construction accident attorney, it's time to call us.
What causes falls on San Antonio construction sites?
The Occupational Health Safety Administration (OSHA) states that falls are the leading cause of construction site accidents that cause injuries or death. More than one-third of all fatalities in the workplace are due to workers falling. These falls are due to uneven or unstable walking surfaces, holes, gravel, debris, scaffolds, ladders, roofs, and other parts of the construction site. OSHA states that many construction falls could be prevented if fall protection requirements were followed.
Construction sites are especially dangerous because the projects may be unfinished for months at a time. Some of the common reasons workers and pedestrians may fall at San Antonio construction sites include:
Debris such as gravel, wood chips, and other loose objects
A lack of warnings about possible dangers
Wiring on the ground from power tools
Poor lighting
Uneven surfaces
Surfaces made of different materials
Spilled liquids or surfaces that are wet due to rain
Falls from heights, such as ladders and scaffolds, are especially dangerous.
What injuries result from falls on San Antonio construction sites?
Falls can cause catastrophic, permanent, and serious injuries. The higher the height a worker falls from, the more catastrophic the injuries are likely to be. Our San Antonio construction lawyer handles all types of fall injuries including:
Broken bones/fractures
Nerve, muscle, ligament, and tissue injuries
Back, neck, and shoulder injuries
Crush injuries including internal organ damage
We also handle falls that are fatal.
Who can file a personal injury claim for a construction site fall?
Passers-by. Anyone who falls at or near a work site that wasn't properly closed off has the right to file a personal injury claim to seek compensation for their injuries. This includes workers, drivers, pedestrians, and anyone else who needs to pass by or through the area.
Contractors and subcontractors. Any worker who is not an employee of the main construction company has the right to file a personal injury claim against this construction company. Contractors and subcontractors who do roofing, masonry, plumbing, electrical work, or any other type of construction work are normally not employees of the main construction company – even if they are employees of a contractor – and can thus file a claim against the main construction company.
Employees of the construction company have the right to file a personal injury claim if the construction company does not carry workers' compensation insurance. If the construction company does have insurance, then the employee is required to file a workers' compensation claim. Texas, unlike most states, does not require that employers carry workers' compensation insurance. Workers' compensation is optional.
If a defective ladder or any type of defective machinery, equipment, or tool caused your injuries, you can file a product liability claim against the manufacturer, even if you are an employee.
At the Law Offices of Pat Maloney, our San Antonio construction accident lawyer also files wrongful death claims on behalf of anyone who has a right to file a personal injury claim or a product liability claim. Otherwise, we seek the death damages that are authorized by the workers' compensation policy.
What safety precautions should construction sites take to prevent falls in San Antonio?
OSHA requires that employers in San Antonio use the proper safety equipment and gear. There are specific requirements for cranes, other tall machinery, scaffolds, and ladders.
For example, crane safety regulations require that operators be certified in how to use the crane. There must be a proper "clearance away from powerlines" while operating the crane. The ground conditions underneath the crane must be able to support the crane. Tower cranes must be inspected before being erected. There are detailed "crane use related fall protection requirements." Qualified riggers must be used for crane assembly and disassembly activities.
OSHA states, as part of its fall prevention campaign, that:
When estimating the cost of a job, employers should include safety equipment, and plan to have all the necessary equipment and tools available at the construction site.

Workers who are six feet or more above lower levels are at risk for serious injury or death if they should fall. To protect these workers, employers must provide fall protection and the right equipment for the job, including the right kinds of ladders, scaffolds, and safety gear.

Every worker should be trained on proper set-up and safe use of equipment they use on the job. Employers must train workers in recognizing hazards on the job.
Texas has its own construction site safety list, which includes several fall protection criteria.
A few other fall prevention strategies include using safety harnesses, handrails, and stair railings, and providing quality personal protective equipment.
Our San Antonio construction accident lawyer reviews all the federal and state regulations that govern construction sites. We also review the local building codes and the standards used for each type of construction.
Do you have a construction accident lawyer near me?
Our San Antonio construction accident lawyer meets victims of falls and their families at our office located at 239 E Commerce St. in the center of Downtown San Antonio, TX. Our building is one of the most beautiful and historic buildings in San Antonio. You'll have no difficulty finding a parking spot. We do conduct video conferences and phone conversations. If you're immobile, we do make in-hospital visits.
We're ready to help you today. We've helped thousands of personal injury victims obtain strong compensation for their medical expenses, pain and suffering, lost income, loss of quality of life, and other damages.
Talk with our experienced San Antonio construction accident lawyer now
Construction companies, engineers, and contractors need to take preventive measures to reduce the risk of falling for workers and pedestrians. There are federal, state, and local standards that must be followed. The Law Offices of Pat Maloney has earned the respect of former clients, insurance carriers, and defense lawyers for our record of success handling premises liability claims and wrongful death claims. To discuss how your claim works with an experienced San Antonio construction injury lawyer, call us or fill out our contact form to schedule a free consultation. We're ready to help you now.