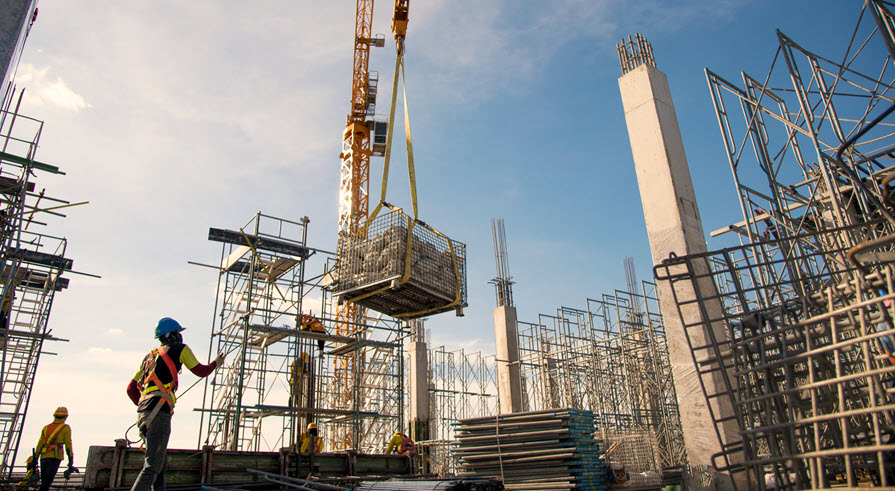 Falling Objects From Construction Sites in San Antonio, TX
Experienced representation for Texas workers who are injured or killed by falling objects
One of the biggest risks on any construction site is falling objects; it's why workers must wear hard hats, and most are required to wear steel-toed boots. But falling objects also pose a risk to the people around that site. Objects that fall from cranes, scaffolding, roofs, or other areas of a site can fall on non-workers or bounce into streets.
At the Law Offices of Pat Maloney, we are skilled at showing what object struck you, why that object shouldn't have fallen, and how you could have been better protected. We file personal injury claims against the construction company and every other responsible party. If you were injured by a falling object on or near a San Antonio construction site, having a lawyer on your side can make a world of difference.
What types of objects may fall at a construction site in San Antonio?
According to the Occupational Safety and Health Administration (OSHA), being struck by objects is the second leading cause of workplace injuries and fatalities.
According to Construction Marketing Association (CMA), the various types of objects that can fall on someone, depending on the type of construction, include:
Concrete
Rock
Wood
Glass
Metal
Plastic
Roofing shingles
Drills
Wrenches
Hammers and nails
Any other type of material used at the work site
There are also serious risks of falling objects whenever there are cranes or cherry pickers nearby. In August this year, a crane knocked over a telephone pole and the live wires fell on I-35. If a crane drops a load of materials or tips over, anyone in the area could be at risk.
Note, too, that a "construction site" might not be a large area. New construction and demolition can take up multiple blocks or acres, but repairs may only stretch for a block or a few feet. Back in 2019, a 100 foot section of scaffolding collapsed on Martin Street and damaged a church and multiple cars (though thankfully no people).
How can falling object injuries be prevented at San Antonio construction sites?
It's critical to prevent objects from falling in the first place and to take steps to ensure workers are not near any place where falling objects are expected – such as when parts of a building are being deliberately destroyed.
The CMA states that in addition to the various structural parts of any building, objects can fall from cranes, scaffolds, and any other type of tall construction equipment or machinery.
Some of the many reasons objects may fall include:
Improperly stacking materials increasing the risk of some or all of the materials toppling over
Failing to secure any tools on beams, ladders, or scaffolds, causing the objects to fall on any workers underneath
Failing to train workers about the risks of falling objects or debris and how to better secure those objects
Not properly securing items on a hoist or a crane
Placing tools, loads, or objects on surfaces that can't support their weight
Violating safety rules – including any governmental rules and company policies
Not posting warning signs about possible falling objects from above
Failing to develop and use better ways to raise and lower objects
Failing to follow OSHA safety guidelines designed to prevent falling objects
At the Law Offices of Pat Maloney, we review all the ways a falling object incident could have been avoided. In addition to the above strategies, we examine whether the construction company used:
Guardrails that are fitted with screens can protect workers from falling objects.
These construction items are essentially boards or restrainers that prevent objects from sliding or rolling off the edge. They should be long enough to protect the length of the working site and strong enough to prevent heavy objects from falling
Nets and canopies. These items need to be strong enough to catch and hold any objects that might fall.
Items shouldn't be stacked or placed too close to the edge of a higher surface.
Who is liable for a construction site accident involving falling objects in San Antonio?
Our San Antonio construction accident lawyer files claims against anyone responsible for falling objects. The defendants may include:
The owners of the construction site
The managers of the construction site
Site engineers
Contractors and subcontractors
Repair and maintenance crews
If a defective tool, equipment item, or machinery caused an object to fall then we work with product specialists to show the product was defective. We file product liability claims against the manufacturer and any other businesses that had a duty to ensure the safety of the product.
Who can file a personal injury claim for falling object injuries that occur at construction sites?
At the Law Offices of Pat Maloney, we represent the following construction accident injury victims:
Any pedestrians who are injured can file a personal injury claim – usually on the grounds that the construction company should have closed off the construction site to nonworkers or warned non-workers of the danger of falling objects.
Non-employees can file a personal injury claim against any responsible parties for any injuries they suffer due to falling objects.
Employees. If your employer does not provide workers' compensation, then you may need to file a personal injury claim to seek damages.
Drivers and passengers. If a falling object such as a beam, a power tool, or any other object falls onto a passing motorist, the occupants may have a claim if they suffer any injuries or if the falling object causes an accident.
The families of anyone who died. Our San Antonio construction accident lawyer represents the spouse, parents, and children of anyone killed by a falling object.
All accident victims, including employees, can file product liability claims.
How much is an injury claim worth if falling objects at a worksite cause harm or death?
Our lawyer has helped thousands of injury victims obtain strong settlements and verdicts for injured clients and families. We spend a lot of time with your doctors to fully understand what injuries you have, all the medical care you will need, how your injuries affect your ability to work, and how every aspect of your life is more difficult, from difficulty sleeping to every ache and worry.
We represent anyone who suffers a traumatic brain injury, concussion, head trauma, spinal cord injury, broken bone, neck or shoulder pain, back pain, or any other type of injury due to an object that falls.
In personal injury claims, we demand compensation for all your current and future:
Medical bills, including ER care, hospitalizations, surgeries, visits with specialists and your family doctor, rehabilitative care, assistive devices, and medications
Lost income and lost benefits for as long as you can't work at the level you did before the accident
Pain and suffering
Scarring and disfigurement
Loss of bodily function
Loss of quality of life
Loss of consortium (marital intimacy)
In wrongful death claims, we demand compensation for the funeral and burial expenses; loss of financial support; personal grief and mourning; and the loss of guidance, love, and support your loved one would have provided.
How can workers protect themselves from falling objects in San Antonio?
Construction companies should educate their workers about the following ways to protect themselves from falling objects:
Workers should wear helmets, goggles, hearing protection, reflective vests, hard-toe boots, and other personal protective gear to protect themselves and to make themselves visible.
Workers should stay away from barricaded areas or any areas with warning signs about the possibility of falling objects.
"Avoid walking or standing in a fall zone under a hoist, crane, front loader, or any piece of heavy equipment or machinery, especially when carrying a load."
Workers should stay away from scaffolds, ladders, and any area where overhead work is taking place.
Workers should use the correct equipment and tools for each task.
Do you have a construction site injury lawyer near me?
At the Law Offices of Pat Maloney, our San Antonio construction accident lawyer meets clients at our office located at 239 E Commerce St. in the center of Downtown San Antonio, TX. There's plenty of nearby parking. We do meet clients away from the office if they can't come to our office. We also arrange phone conferences and video conferences.
We'll answer all your questions and calmly guide you through each phase of the litigation process.
Contact us now. Speak with our personal injury specialist, Pat Maloney, today.
Construction accident cases can be very complicated, because there are often many defendants who blame each other. There are laws and regulations along with industry standards that need to be reviewed. The Law Offices of Pat Maloney have been fighting for accident victims in and around San Antonio for 70 years. To learn more, call us or complete our contact form to schedule a free consultation with a San Antonio construction injury attorney. We'll fight for all the compensation you deserve.