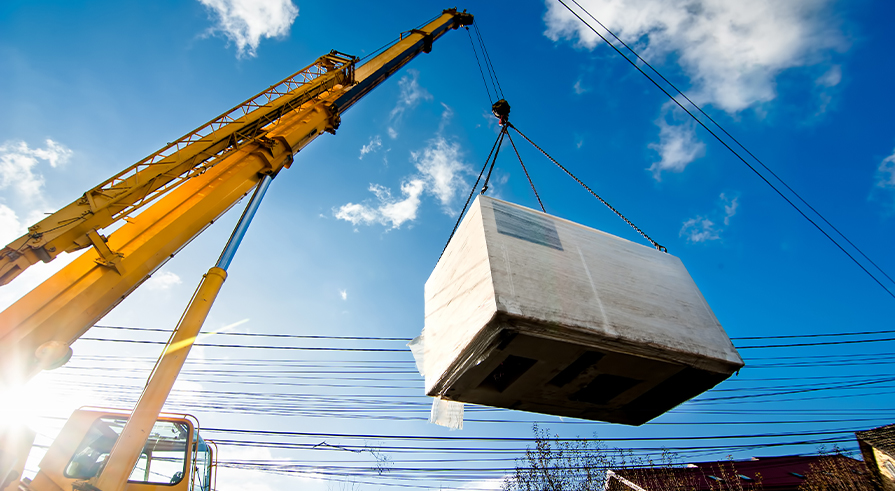 San Antonio Crane Accident Attorney
Experienced legal representation for crane accidents in Texas
Crane accidents are some of the most disastrous of all construction accidents. Unfortunately, these incidents are alarmingly common in Texas.
According to the U.S. Bureau of Labor Statistics (BLS), Texas ranks first in the nation when it comes to deadly crane accidents. In fact, from 2011 to 2017, the most recent data available, there were 50 crane-related fatalities in Texas—more than the next three states combined. As recently as September 2020, more than 20 people were injured on a construction site in Austin when two cranes collided and became tangled with one another, causing one of the cranes to partially collapse. And, these types of accidents persisted throughout 2021.
Unfortunately, many crane accidents occur as a result of an individual or entity's negligent or wrongful conduct. When this is the case, injured victims and the families of those wrongfully killed could be entitled to legal action. When workers are injured in crane accidents on the job, they may be entitled to compensation regardless of fault or whether anyone acted negligently. If you believe you may be owed financial compensation for the losses you sustained due to a crane accident, reach out to the Law Offices of Pat Maloney today to learn how our team can help.
Call our offices or submit our contact form to request a free initial consultation with a San Antonio crane accident attorney at our firm.
How can your San Antonio crane accident attorney help?
As San Antonio's oldest plaintiffs' personal injury law firm, the Law Offices of Pat Maloney has been a trusted name in the community since 1953. To date, we have successfully recovered millions of dollars for our clients, including numerous million- and multimillion-dollar results.
After a serious accident or injury, we understand what is at stake. Our team knows the challenges you are up against, as well as the importance of securing justice for you and your family. We are ready to fight for you and the compensation you are owed.
What are common types of crane accidents?
Cranes are among the most common of all construction equipment. Unfortunately, when safety protocols are not followed or equipment is defective, serious accidents can occur.
Some of the most common types of crane accidents include:
Being struck by falling objects/equipment
Falls to lower levels
Transportation-related accidents
Crane collapses/overturned cranes
Boom failures
Contact with electrical wires
Dropped loads
Rigging failures
Counterweight crush accidents
Mechanical failure
These and other common crane accidents can have disastrous effects, leading to catastrophic injuries and fatalities. Sadly, many of these incidents are entirely preventable.
What are the most common causes of crane accidents?
Like any construction accident, crane accidents should never occur. Unfortunately, many do, often resulting from the negligent or wrongful conduct of a contractor, subcontractor, site manager, product manufacturer, or another party.
Some of the most common causes of crane accidents include:
Improper outrigger use
Improper rigging
Excessive weight
Defective or damaged rigging devices/equipment
Failure to heed overhead powerlines
Failure to conduct adequate boom inspections/maintenance
Improper crane assembly
Mechanical failures
Failure to properly train/supervise workers
Improper weight calculations
Crane operator error
Failure to follow OSHA and other safety standards
At the Law Offices of Pat Maloney, our San Antonio crane accident attorney works with a team of industry experts and accident reconstructionists to determine exactly how the incident occurred and, importantly, who is liable. This allows us to build a powerful case on your behalf, as well as aggressively advocate for the maximum compensation you are owed.
What types of injuries occur from crane accidents?
There are many types of injuries that can occur from crane accidents, ranging from minor cuts and bruises to fatal injuries. Some of the most common injuries that occur from crane accidents include:
Crush injuries: These occur when a body part is caught between the crane and another object, such as a wall or another piece of machinery.
Traumatic brain injuries: These can occur if a worker falls from a crane or is struck by a falling object.
Spinal cord injuries: These can occur if a worker falls from a crane or is struck by a falling object, resulting in damage to the spinal cord.
Burns: These can occur if a crane comes into contact with power lines or other sources of heat.
Lacerations: These can occur if a worker comes into contact with sharp objects or is struck by flying debris.
Fractures: These can occur if a worker falls from a crane or is struck by a falling object.
Electrocution: This can occur if a crane comes into contact with power lines.
It's important to note that crane accidents can be very serious and have long-lasting effects on a worker's health and well-being. It's essential that proper safety measures are taken to prevent these types of accidents from occurring in the first place.
Who is liable for my San Antonio crane accident?
Determining liability in a crane accident is often very complex. This is largely due to the many potentially liable parties involved. Additionally, if you or your loved one was covered by workers' compensation, you may not need to establish liability in order to seek compensation for your medical expenses, lost wages, and other damages.
If, however, you are not covered under an employer's workers' compensation insurance, you will need to prove liability if you wish to receive financial recovery after the accident.
In a given crane accident case, any of the following parties could be partially or wholly liable:
A contractor
A subcontractor
The crane operator
The construction site owner/manager
A manufacturer or distributor
An employer
Our firm is prepared to thoroughly investigate your claim to determine if one or more of these or other parties could be liable for your crane accident and your related injuries and losses. Our attorney is prepared to handle every legal detail so that you can simply focus on what matters most: healing and moving forward with your life.
Do you have a crane accident attorney near me?
The Law Offices of Pat Maloney is located at 239 E Commerce St. in the center of Downtown San Antonio, TX. We are the owner of one of the most beautiful and historic buildings in San Antonio. There's plenty of parking nearby. If you cannot travel, we can arrange a phone or video conference, or an in-hospital visit.
Put 70 years of San Antonio legal experience on your side
Trust a team with a proven track record and a 99% success rate. If you or a loved one were injured in a crane accident, you need an experienced and honest attorney on your side. At the Law Offices of Pat Maloney, we can help you secure the compensation to which you are entitled for your expenses, losses, and pain and suffering. Call our San Antonio offices or fill out our contact form today to schedule a consultation for help with your crane accident case.