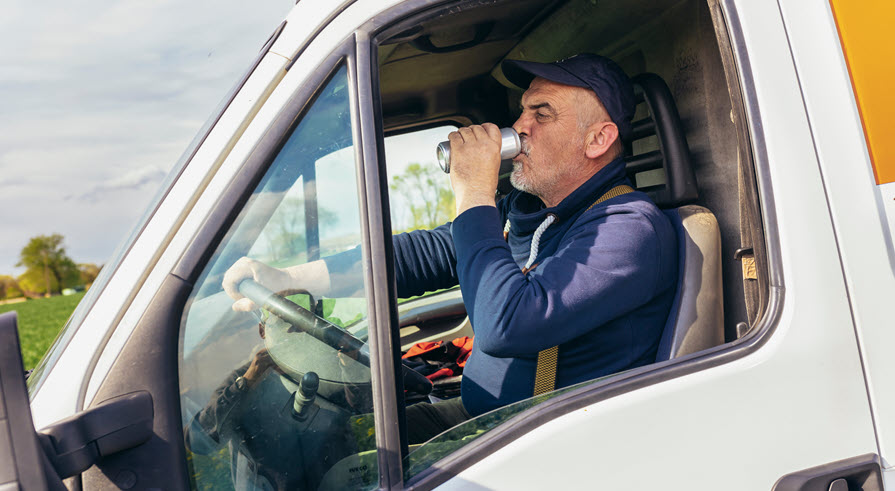 San Antonio Drunk and Drugged Truck Accident Attorney
Fighting for victims of impaired driving accidents throughout Texas
Driving trucks long-distance is tiresome, grueling, lonely work. Some truckers may turn to "self-medication" to help them stay awake on the road or fall asleep at night. But any type of impaired driving is dangerous, and when that driver is behind the wheel of a semi-truck, a crash can turn deadly in an instant.
At the Law Offices of Pat Maloney in San Antonio, we hold truck drivers and trucking companies accountable for their negligence. We work with the police to help show a driver was intoxicated or under the influence of drugs. We work with investigators and conduct extensive discovery to show how the truck accident happened. Our team works with your doctors to show all the ways a drunk or medicated driver changed your life or ended the life of a loved one. If you or a loved one was hurt in a truck accident, having an attorney on your side can make all the difference.
How common is drunk driving and medicated driving?
The National Highway Traffic Safety Administration (NHTSA) reports that in 2021, 13,384 people died in alcohol-impaired driving traffic deaths nationwide. In most states, including Texas, a person is considered intoxicated if their blood alcohol content (BAC) level is .08 or higher – but truck drivers are held to a stricter standard. A commercial truck driver who has a BAC of .04 or higher can be charged with DWI and have his or her CDL revoked.
According to FreightWaves, a publication which monitors truck driving, drug use among commercial truck drivers is very high. The Drug and Alcohol Clearinghouse reported that in 2022 nearly 70,000 drivers had positive drug tests or refused to take a drug test. Marijuana was the drug most commonly found in these drug tests.
American Addiction Centers states that a recent study showed that 27.6 percent of truck-driving respondents said they consumed drugs. Further, 21.3 percent of the 27.6 percent admitted to using amphetamines to increase their productivity even though amphetamines affect a driver's skill, putting everyone on the road at risk of serious injuries or death.
A study by the National Institutes of Health found that "truck drivers choose mainly stimulant substances as a form of performance-enhancing drug, in order to increase productivity. However, chronic and high-dose consumption has been shown to decrease driving skills, placing these professional drivers, as well as the general public, at risk."
Why is driving under the influence of alcohol or drugs so dangerous?
The NHTSA states that alcohol affects a driver's central nervous system as follows:
BAC of .02. The truck driver's ability to track moving targets (other vehicles) declines and the ability to perform two tasks at the same time declines.
BAC of .05. The truck driver's coordination is reduced, along with the ability to track moving objects. The driver will have problems steering and responding to traffic emergencies.
BAC of .08. The drivers' ability to concentrate worsens. Speed control, short-term memory loss, perception, and information processing capability are all adversely affected.
BAC of .10. The driver will have difficulty staying in the same lane and braking properly.
BAC of .15. The truck driver's ability to control his/her vehicle is substantially impaired. The driver will have difficulty hearing and paying attention to his/her driving.
The NHTSA also states that some of the many drugs that can impair a truck driver's ability to drive include:
Any drug that affects the driver's judgment, coordination, and reaction times.
Methamphetamine and cocaine, which make truck drivers "more aggressive and reckless."
Prescription medications and over-the-counter medications, which may cause drowsiness, dizziness, and other side effects. Drivers should understand the warnings before even considering driving.
Marijuana, which can impair your driving. The NHTSA states that marijuana impairs motor skills, lane tracking, and cognitive functions.

"NHTSA's Drug and Alcohol Crash Risk Study found that marijuana users are more likely to be involved in crashes. However, the increased risk may be due in part because marijuana users are more likely to be young men, who are generally at a higher risk of crashes."
Using multiple drugs or alcohol and drugs together is especially dangerous.
What about prescription drugs?
The Department of Transportation (DOT) has a list of disqualifying medications – drugs that DCL holders are legally unallowed to use. Most of them include controlled substances like cocaine and heroin, but marijuana is also on the list, as are certain over-the-counter drugs and prescription medications. The reason for this is because the meds on this list have known side effects that could affect a driver's abilities.
However, it is well known that certain medications can interact differently or counteract each other. It is also well known that people may react differently to certain drugs, even if those drugs are deemed "safe" by the DOT. What this means is that having a prescription for a medication does not remove liability from a truck driver who causes an accident while under the influence of the drug, or from the trucking company itself.
What types of injuries do victims of drunk or drugged driving suffer?
Impaired drivers often cause catastrophic injuries and deaths because they speed, drive into oncoming traffic, pass improperly, run through red lights, or drive dangerously or negligently in other ways.
Catastrophic and serious injuries include:
Broken bones
Internal organ damage and internal bleeding
Nerve, ligament, tissue, and muscle damage
Scarring and disfigurement
Truck accidents in general can be deadly; when the driver is impaired in some way, it could increase that risk. A San Antonio drunk driving lawyer from our office can help you file a wrongful death claim against all liable parties if your loved one is killed.
Who is liable for a drunk driving accident in San Antonio?
At the Law Offices of Pat Maloney, we coordinate your civil claim with any criminal charges filed by the local police for drunk driving or impaired driving.
We file claims against all responsible parties. These defendants may include:
The driver of the truck
The truck driver's employer
The companies involved in the shipment, if they were aware of the driver's drinking or drug use difficulties or failed to educate their drivers about the dangerous usage.
Anyone who sells or serves an alcoholic beverage under the authority of a license or permit to anyone who is visibly intoxicated or any adult who serves alcohol to a minor, and the person served later causes a San Antonio truck accident due to their intoxication.
Do you have a drunk driving/medicated driving accident lawyer near me?
The Law Offices of Pat Maloney meets injury victims and families at our office located at 239 E Commerce St. in the center of Downtown San Antonio, TX. We can proudly say our office building is beautiful and historic. There's plenty of convenient nearby parking. We do conduct video conferences, take phone calls, and visit people who are in the hospital.
We've been fighting for personal injury victims for 70 years.
Call our San Antonio personal injury specialist attorney today
There's no excuse for driving while intoxicated or under the influence of any drugs. Truck drivers must find other ways, safe ways, to manage any stress or loneliness they have, and speak with their doctors about the effects of prescription medications. The dangers of drunk driving and drugged driving are very well known. At the Law Offices of Pat Maloney, we demand compensation for all your medical bills, lost income, pain and suffering, scarring or disfigurement, property damage, and other damages. We seek punitive damages in most impaired driving accident cases. We also file wrongful death claims for children, parents, and spouses.
To discuss your rights with a San Antonio truck accident attorney, call us or complete our contact form to schedule a free consultation. We handle personal injury claims on a contingency fee basis.