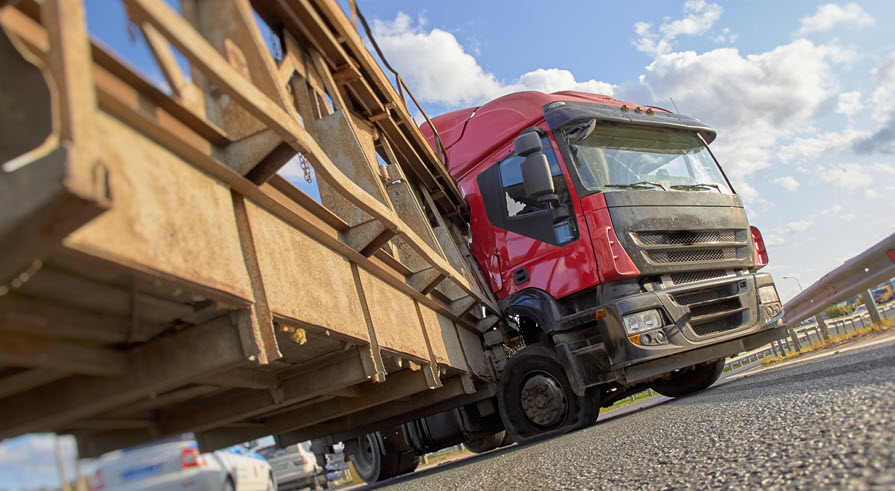 San Antonio Tire Blowout Lawyer
70 years of experience fighting for Texas truck accident victims
Tire blowouts are dangerous for many reasons. The initial blowout can cause a driver to lose control of the vehicle. Once the driver loses control, any type of truck accident is possible, including deadly rollovers and head-on collisions. A truck tire blowout can cause the cargo from the truck to spill out onto the highway.
At the Law Offices of Pat Maloney, our legal team in San Antonio is skilled at showing why the blowout happened, why the blowout was preventable, and what type of truck accident happened. Many truck tire blowouts are caused by defective tires or the failure of the driver or trucking company to regularly inspect the tires before each trip. Our team has a strong record of successful awards for personal injury cases. We demand compensation for all your financial damages, such as medical bills and lost income, and all your personal damages such as pain and suffering. Contact a San Antonio truck accident attorney today to get started.
What is a tire blowout?
Tire blowouts typically happen while a truck is in motion. Unlike flat tires, which are due to a gradual loss of tire pressure, tire blowouts are due to a sudden rapid loss of air pressure. Generally, a tire blowout is accompanied by a loud boom and damage that cannot be repaired. The blown-out tire needs to be replaced. A tire blowout may be felt in the way the truck steers or in the body of the vehicle.
According to a spokesman for Travelers Risk Control, there are three sounds associated with a tire blowout: "A loud boom or bang is the result of a tire exploding/popping. A whooshing sound is likely the result of air releasing quickly from the tire and a flapping noise means the tire has deflated completely."
According to the National Highway Traffic Safety Administration (NHTSA), 622 people died in 2022 due to tire-related crashes, including crashes due to tire blowouts, tread problems, bald tires, and flat tires.
What are the causes of tire blowouts in San Antonio?
Truck tires may blowout for many reasons including:
Excessive loads. The more cargo that is loaded into a truck or the heavier a truck is, the more pressure the truck tires need to absorb. Heavy loads also cause the treads to be uneven or wear out which can also blowouts.
Hot weather. The summer heat can get pretty intense in San Antonio. Heat affects the strength of tires. Heat causes expansion. If the tire is weak and expanded, the tire pressure can be reduced, causing a blowout.
The conditions of the road. Any debris, unevenness to roads, potholes, or work zone improvements can puncture a tire or cause a sudden loss of pressure, causing a truck tire blowout.
Improper inflation. Underinflated tires are more likely to lose pressure than inflated tires, increasing the odds of a tire blowout.
Poor alignment. Truck tires should be properly aligned and should be of the same type. Any improper installation can cause a blowout.
Mismatched tires or incorrect tires. Different types of trucks need different tires. Different truck tires are used for different seasons and different roads. For example, all-season tires should respond to all types of road conditions. Summer tires cannot handle ice and snow.
Other causes of tire blowouts include improper braking and speeding.
What types of truck accidents occur after a tire blows out in San Antonio?
A truck driver who loses control of his/her truck after a blowout may be involved in any type of truck accident including the following:
Spilled cargo. The tire blowout can cause the cargo to move, which can cause the driver to lose control of the truck a second time after the initial loss of control due to the blowout. The blowout can also cause the cargo to spill, creating havoc on the highway as other drivers try to avoid the spilled cargo and the truck.
Truck rollovers. A truck tire blowout can alter the center of gravity of a truck, causing it to roll over. Rollover crashes are often deadly.
Jackknife accidents. If a semi-truck driver attempts to regain control after a blowout and overcorrects, he or she can end up jackknifing the truck.
Rear-end collisions. A truck driver who is focused on regaining control of the truck after a blowout may not be able to respond to any nearby emergencies such as a vehicle that is stopped in front of the truck.
Head-on collisions. Truck drivers in San Antonio who lose control of their trucks may enter opposing lanes of traffic as they try to regain control. Any head-on collision with a vehicle in an opposite lane is likely to cause catastrophic injuries or death.
These accidents may cause the occupants of the truck or other cars to suffer traumatic brain injuries, spinal cord damage, burn injuries, crush injuries, traumatic amputation, disfigurement, broken bones, and other serious injuries. Many truck accidents in San Antonio are fatal.
How should a truck driver respond to a tire blowout?
The NHTSA has numerous recommendations for avoiding truck tire blowouts. Tires should be checked before each trip to determine if they are properly inflated, if the tread is wearing down, and if they are properly aligned. Tires should be rotated and balanced.
If a blowout happens, a truck driver should:
Have both hands on the steering wheel.
Keep at the same speed if possible and safe to do so.
Release the pressure on the accelerator – gradually.
"Correct the steering as necessary to stabilize your vehicle and regain control. Look where you want the vehicle to go and steer in that direction."
After the vehicle is stabilized, slow down and pull off the road to seek help replacing the tire. Drivers should be able to replace a spare or call for roadside help.
If there was an accident, the police should be called. The truck dispatcher should be notified. The top priority should be attending to anyone who was injured.
Who is liable for tire blowout accidents in San Antonio?
At the Law Offices of Pat Maloney, we file personal injury, product liability, and wrongful death claims against the responsible parties. The defendants may include:
The truck driver
The employer of the truck driver
The owner of the truck
The owner of the truck cargo
Tire manufacturers
Companies that had a duty to inspect and maintain the tires
The Texas Department of Transportation or other governmental agencies or entities who are responsible for safe road design and road maintenance
Many tire blowouts are caused by defective tires. A victim of a San Antonio tire blowout accident has the right to file a product liability claim or a wrongful death claim if the tire was defectively designed, manufactured, or if the tire lacked appropriate warnings about safe usage. Tire defects may include defective inner belt gauges, steel belt defects, and other types of defects.
The owners of trucks and fleets should be alert to any tire recall notices and respond appropriately, usually by replacing the tire.
Please know that claims against a state entity or agency are complicated and have very short time limits. You should contact us immediately.
Do you have a tire blowout accident lawyer near me?
The Law Offices of Pat Maloney is located at 239 E Commerce St. We're in the center of Downtown San Antonio, TX. Our office is quite lovely. There's lots of parking close by. We also discuss cases on the phone, by video conference, and make in-hospital visits.
We'll fight for all the financial and personal damage compensation you deserve.
Call an experienced San Antonio tire blowout accident attorney now
A tire blowout can change your life in an instant. At the Law Offices of Pat Maloney, we have helped thousands of personal injury clients obtain and secured millions of dollars on their behalf. To assert your right to compensation with the help of an experienced San Antonio truck accident lawyer, call us or use our contact form to schedule a free consultation. We handle tire blowout accidents on a contingency fee basis.