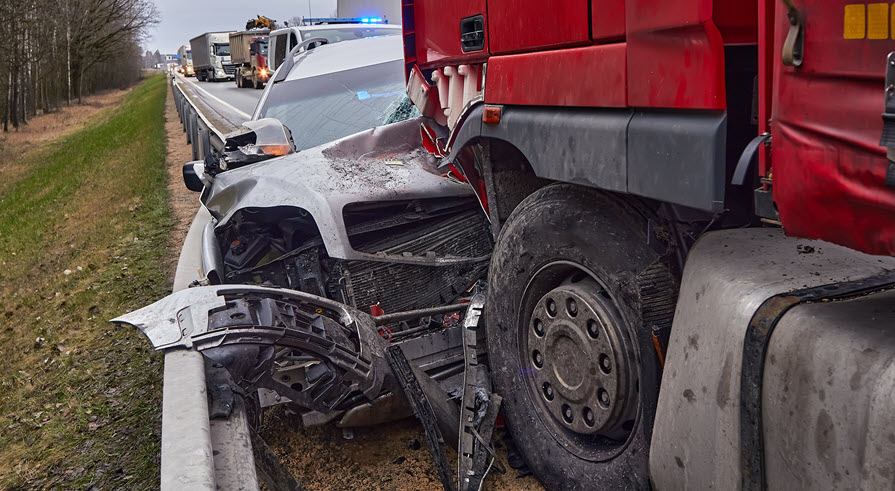 San Antonio Underride Accidents Lawyer
Holding trucking companies liable for failing to put safety first
Truck accidents are scary. There are some accidents that are almost always deadly. One dangerous type of truck accident is an underride crash. Underride accidents occur when a small car or motorcycle slides underneath a tall truck – often killing the occupants of the smaller vehicle. Usually, the small car slides under the rear of the truck though, sometimes, the small car can slide under the side of a truck.
The manufacturers of trucks are well aware of these dangers. So is the government. That's why there are federal regulations and truck industry standards that determine which trucks must have rear guards and the specific requirements for designing those guards and placing them on the truck. At the Law Offices of Pat Maloney in San Antonio, we hold truck manufacturers and trucking companies liable when their negligence leads to an underride accident. We're here to help. Call us today.
What are the different kinds of underride truck accidents?
Small vehicles, compacts, mid-size vehicles, and motorcycles are at risk of two types of underride accidents:
Rear underride accidents. These collisions usually occur because the driver of the car or motorcycle was speeding, driving while distracted, fatigued, or the weather was poor. The vehicle then strikes the rear of the truck and slides under the truck. A rear-end crash can also occur when a truck is backing out of a street, parking lot, or any other location.
Side underride accidents. These collisions may occur when a truck passes too close to a small vehicle, when a truck is turning or making a U-turn, at intersections, or at other locations where one side of the truck collides with one side of the smaller vehicle.
What regulations govern truck underride safety in San Antonio?
The National Highway Traffic Safety Administration (NHTSA) wrote a publication titled "The Effectiveness of Underride Guards for Heavy Trailers. The publication includes the following information:
Federal Motor Vehicle Safety Standards (FMVSS) Nos. 223 and 224 require underride guards meet a strength test on trailers with a GVWR [Gross Vehicle Weight Rating] of 10,000 pounds or greater manufactured on or after January 24, 1998.
FMVSS No. 224 defines the size requirements for the guards
FMVSS No. 223 describes strength testing and energy absorption requirements for DOT-compliant guards
There are specific energy absorption requirements and strength test requirements at specific places on the rear of the truck. But we also know that these requirements are not enough to protect people. Frontline reports that "According to NHTSA's latest figures, more than 400 people died in underride crashes in 2021, the most recent year for which data is available. But experts say the true number of deaths is likely higher." This is why the Federal Motor Carrier Safety Administration (FMCSA) has proposed new regulations for 2023 that address the issue of side guards.
The FMCSA proposes that trucking companies require that trucking companies install "side underride guards on all truck trailers manufactured after January 1, 2023."
"The truck-specific side underride guards must be tested and certified by an independent third party to ensure they meet trucking industry safety guidelines and avoid a truck accident."
The NHTSA is also publishing an Advance Notice of Proposed Rulemaking to consider requirements for side underride guards. The creation of the committee is part of the obligation of the Bipartisan Infrastructure Law.
Who is liable for a rear or side underride accident in San Antonio?
A car or motorcycle driver may be liable for any passenger injuries or deaths if the driver:
Rear-ends a truck
Drives while speeding or distracted
Tailgates
Drives too fast for weather conditions, such as rainy weather or slippery roads
Truck drivers, employers, owners, and manufacturers may be liable if:
The truck does not have regulation underride guards.
The truck does not have reflective tape or working taillights to make it easier for other drivers to see the truck – especially at night.
A truck driver fails to signal he/she is turning or moving into another traffic lane.
A truck driver is driving too close to cars in front of the truck, forcing the driver to stop suddenly.
A truck driver fails to back out into traffic safely.
The trucks' taillights, turn signals, or brakes are in disrepair.
Both the manufacturers of truck guards and the owners of the truck may be liable if a truck underride accident happens – even if the driver of the car or motorcycle caused the crash – because the guards are designed in anticipation of the negligence of car and motorcycle drivers.
Additional liable parties, including product manufacturers, may also be involved.
What damages can truck underride accident victims and families claim in Texas?
When you file a personal injury claim in Texas, the law allows you to seek compensation for your losses. These losses, or damages, can include:
Medical expenses related to the incident, including the cost of future medical care
Lost wages and benefits
Pain and suffering
Mental anguish, past and future
Possible punitive damages against the at-fault party
Funeral and burial costs (for fatal accident claims)
Sadly, most people who survive an underride truck accident in San Antonio need emergency room care, surgeries, hospitalizations, doctor visits with many different specialists, rehabilitative therapy, psychological help, assistive devices, and medications. The medical expenses will likely make up a significant amount of your award. However, we know that insurance companies will fight to pay out the least amount they can, and not what is best for you.
This is why having a San Antonio truck accident lawyer on your side is to your benefit. At the Law Offices of Pat Maloney, we also represent spouses, children, and parents when a loved one tragically dies in an underride accident. We've helped many families receive significant wrongful death awards.